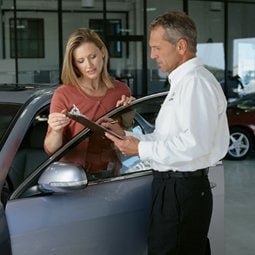 Cure Your Automotive Ails with Ciocca Ford of Souderton's Ford Maintenance and Repair Center
Drivers in Souderton, Bethlehem, PA, Perkasie, Quakertown and Sellersville, PA know where to go when it comes to a routine check-up, a quick fix, or when the engine is making a sound that just isn't quite right; the seasoned technicians at our service and repair center will get your used or new Ford F-150, Focus, Escape, Fusion or SuperDuty up and running quickly and affordably.
Their secret? Aside from being trained specifically to work on your Ford, they only use the brand-certified parts. That's right: the very same ones you'd find on the assembly line where your car was made.
If you're interested in seeing what we can do for your car, fill out our convenient online contact form, give us a call, or come on over to make an appointment. Once you've been scheduled, we'll get you in and out before you can say 'I love Ciocca Ford of Souderton!'